At Best Med, we have extensive experience lecturing on a wide-variety of health-related topics and their impact and relevance in the workplace. Our presentations have educated and trained the full spectrum of stakeholders: businesses, employees, supervisors, physicians, nurses, medical students, claims adjustors, case managers, vocational rehabilitation specialists, physical therapists, trade organizations, unions, physical therapists, attorneys, judges and government officials.
Of course, our lecture and seminar series can be customized to suit your industry and employees. Moreover, we will bring our expertise to your door, presenting in your office place or in another convenient setting.
Best Med offers a comprehensive catalog of education and training programs to suit your specific safety, regulatory, and operational needs. Let Best Med keep you and your employees up-to-date on industry-best practices and procedures, regulations, guidelines, certifications, and emerging topics.
Some of our most popular occupational health and safety lecture topics include: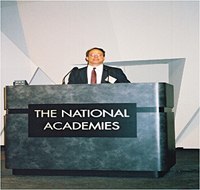 Dr. Pinsky speaking on "Musculoskeletal Disorders in the Workplace" at The National Academies of Science.
Workplace Drug-Testing

Emergency Preparedness in the Workplace

Managing the Health-Life of a Worker

Bloodborne Pathogens: An Overview

The ABCs of Hepatitis A,B,C and D

IME's for Dummies and Others

Return to Work: Science or Fiction?

Delayed Functional Recovery: Why Don't I Get Better?

The Impact of the Americans with Disabilities Act

Infectious Diseases at Work

Workers' Comp a Pain in Your... Back?

My Co-worker has a Personality Disorder

The Black Holes of Workers' Compensation: Fibromyalgia, Myofascial Pain Syndrome, Chronic Pain Syndrome

Big Business, Strong Medicine

The Disability Cycle

The Aging Worker

Health & Productivity: Make It Work

At Best Med, we believe knowledge is power. This is why in addition to our lecture series, we maintain a listing of online occupational health and safety resources. Please stop by the Best Med Resource Center and peruse our collection of helpful and relevant websites.

Contact us to learn more about Best Med's education and training programs.
Best Med ... the best medicine for your business.




| | |
| --- | --- |
| | ©2011 Best Med Consultants, PA |