Employers frequently face employee and customer health situations that do not fit neatly into ordinary categories. Yet, mistakenly, they ask their ordinary walk-in company clinic staff to help them in situations for which they are not fully prepared. When such circumstances arise, the wise employer calls in a medical professional experienced with extraordinary workplace circumstances.
Under the triple board-certified direction of Dr. Tim Pinsky, Best Med Consultants accurately and aggressively addresses any workplace health issue that requires special attention. No organization can predict what challenges might arise in the future but here are some examples of our past consultations: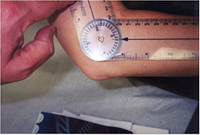 Best Med's medical director evaluating a patient for repetitive stress injury.
Company president espouses that safety is the #1 priority but disciplines every injured employee.
A vendor peddles backbelts guaranteed to reduce low back injuries
Unidentified white powder is found in the mailroom
An attorney calls saying a customer he represents was injured in your store
After a flood in a warehouse mold is discovered
During remodeling asbestos is found on the water pipes
Several employees complain of a similar rash
A retiring employee asserts a cumulative trauma disorder
A community activist calls the newspaper alleging the company is sickening the neighborhood with pollution
An employee's family member demands an experimental procedure be covered under the company health plan
A call center worker with productivity issues wants increased breaks to use the restroom
Carpal tunnel surgeries are done on a cluster of employees in one work area of a plant
A new shift-worker demands to work only the day shift
One day after a work injury an employee requests acupuncture
An internationally-distributed food product causes illness in a school cafeteria that serves it
Union and Management disagree on the proper health care insurance carrier
Sick Building Syndrome is asserted by employees working in different locations
The spouse of an employee threatens to harm her at work
Delivery man with uncontrolled diabetes causes a motor vehicle accident
State law requires a business to select a provider panel

With the experience of confronting these circumstances and the know-how to deal effectively with future unexpected health challenges that impact workers, customers, and the public, Best Med Consultants is the best medicine for your business.

Contact us to learn more about Best Med's occupational and environmental health consulting services.
Best Med ... the best medicine for your business.




| | |
| --- | --- |
| | ©2011 Best Med Consultants, PA |