Best Med offers a broad range of clinical services to help keep workers healthy and productive from the point of hire — offering pre-placement exams, periodic and regulatory evaluations, wellness interventions, injury care, return to work, disability avoidance, and fitness for duty assessments — until employment concludes and beyond.

Best Med knows that determining the fitness and ability of an employee is an important decision for any business. That's why we offer a number of medical exams — all of which can be customized to suit your needs — to provide you with the information needed to create and maintain a healthy and safe workplace in keeping with applicable laws and regulations.

The most common physical exams that we offer include:

Pre-Placement Physicals - Best Med helps determine whether applicants/employees are medically and physically able to perform their essential job functions.

Fitness-For-Duty Examinations - Via in-depth clinical exam, record review, and analysis of job descriptions, Best Med helps you assess whether employees can perform the required job duties unique to their position in the context of performance and attendance issues.

Executive Physical Examination Program and Employee Wellness Examinations - Guided by the principles of family medicine and preventive medicine, Best Med offers appropriate medical screening and education that identifies at-risk health disorders and lifestyle behaviors. This facilitates early intervention, cultivates healthier, more satisfied and productive workers, and lowers health care costs. Learn more...

Return-To-Work Examinations - Best Med will assist you in determining when an ill or injured employee is ready to safely resume work or modified duty after a personal illness or work injury.

Regulatory Examinations - Let Best Med help you maintain regulatory compliance with the rules and regulations of OSHA, DOT/CDL and other federal agencies, as well as ensure medical conformity with ADA and FMLA laws and other applicable guidelines.

Industry-Specific and Other Specialized Examinations - Best Med offers a broad-range of specialized physical exams and diagnostic tests (respiratory clearance exams, pulmonary function testing, audiometric screening, visual acuity testing, functional capacity evaluations, x-rays, etc.) including those for CDL drivers, firefighters, police, healthcare workers, asbestos and hazardous material workers, and employees of virtually any industry. Please contact us to learn more about Best Med's extensive experience in this area.

Best Med's certified Medical Review Officer (MRO) shares your commitment to a safe, drug-free workplace and recognizes that employers face an alarming problem in this regard. Studies show that nearly 70% of drug users are employed. Sixty (60) billion dollars are spent annually on drug abuse. According to the Substance Abuse Mental Health Services Administration (SAMHSA), compared to the non-abusing employee the typical drug-abusing worker has 2.5 times more absences of 8 days or more; 3 times more latenesses; is 3 times more likely to abuse normal sick leave benefits; has 3.6 times more work-related accidents; and is 5 times more likely to file for workers' compensation benefits.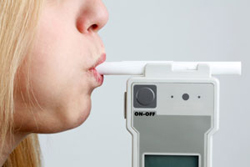 Breath-Alcohol Testing device.
We can customize a cost-effective workplace drug and alcohol program that meets your company's specific requirements. Our substance abuse programs are designed to keep you in compliance with appropriate regulations, both governmental and industry-specific. Most of all, when successfully enforced, they assist in creating a safer environment for your workers and customers.
Best Med offers a full line of lab-based and instant drug-testing products and services, including:
On-site drug test collections

Random selection of your employees for drug and alcohol testing

Individual drug and alcohol testing

Saliva / Oral Fluids testing

Hair-based drug testing

Urine-based drug tests

Breath-alcohol testing

Substance abuse policy development
SAMHSA drug panel analysis with GC/MS confirmation on positive results
Certified chain-of-custody
Supervisory and employee education and training
Substance Abuse Professional (SAP) evaluations
24-hour response for negative specimen results
Litigation support
Post-accident and reasonable-suspicion testing services

In addition, Best Med's MRO is uniquely qualified to help you design, implement and maintain an effective substance abuse policy for your workplace. We have the experience and expertise you need to create and promote a safe, substance-free work environment.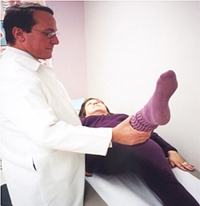 Best Med's medical director checking for lumbar radiculopathy.
At Best Med, we are committed to providing quality evidence-based medical care designed to return injured patients to their optimal functional level, in the workplace and beyond, as soon as is medically feasible. By virtue of our experience in applying the fundamental principles of occupational, family, and preventive medicine we understand that doing so facilitates recovery and patient satisfaction.
When an employee is injured on the job, medical care should be provided by a board-certified physician who has the training and experience in the prevention, evaluation, treatment, rehabilitation, and management of occupationally-induced illnesses and injuries. Best Med's Medical Director is specially trained and experienced in these areas. He ensures that every injured worker we treat within the workers' compensation system receives appropriate care intended to yield the best outcome possible. Learn more ...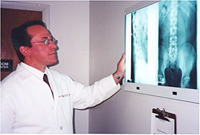 Best Med's medical director evaluating a patient x-ray.
Best Med Consultants renders comprehensive clinical care for individuals and their families covering the full spectrum of acute and chronic medical disorders. Our philosophy is to provide personalized one-on-one attention to the individual as a whole. This takes into consideration their personal health needs in conjunction with their work, environment, family, and psychosocial influences.
Contact us to learn more about Best Med's occupational health services.
Best Med ... the best medicine for your business.

| | |
| --- | --- |
| | ©2011 Best Med Consultants, PA |